Hey there,
Hope you're having a great start to your week!
I haven't quite yet had time to finish off my latest experiment, but I promise you it will happen this week (for real!). In the meantime, I thought I would drop you all a line saying that my loom and some footage of me talking about my practice is currently on show as part of the What Do We Become exhibition at the Barbican.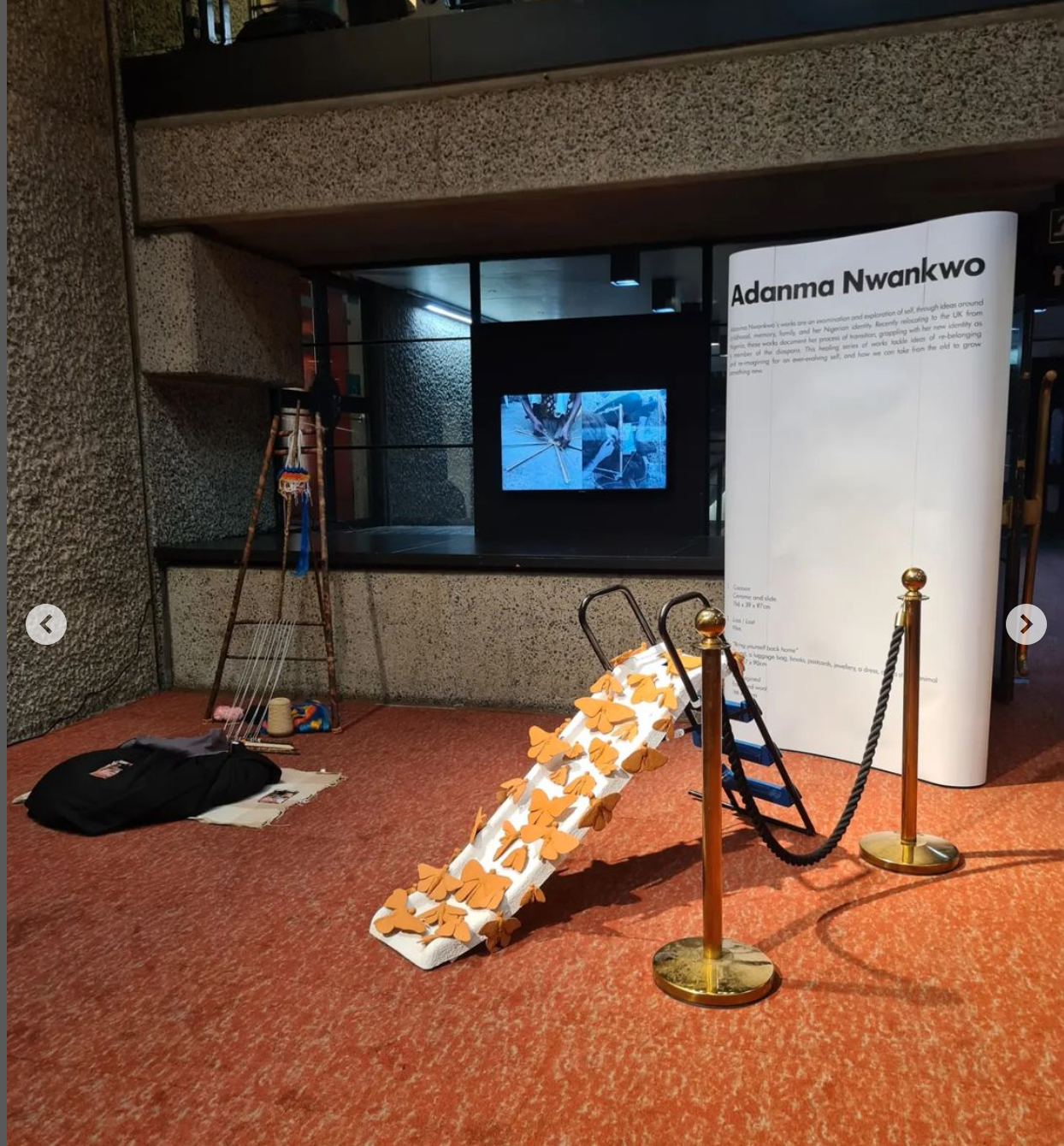 What Do We Become
I collaborated with Adanma Nwankwo who was one of the attendees at my backstrap weaving workshop at Make Town back in February. She then messaged me on Instagram and told me she would love to collaborate with me, and that she's one of the Young Barbican artists for the exhibition. I was instantly intrigued, so we had a great meet up and decided to go for it. Adanma was so kind in saying that the backstrap weaving workshop helped her to feel more at peace and at home in London. There was something about learning a skill that was used by weavers from the town that she was from in Nigeria that helped her feel less displaced and helped her sense of healing. I felt so humbled and it felt like my weaving practice was really validated because it helped someone experience such feelings when making. This is the whole point of weaving for me! The connection between our mind, body and the loom is what always draws me into backstrap weaving.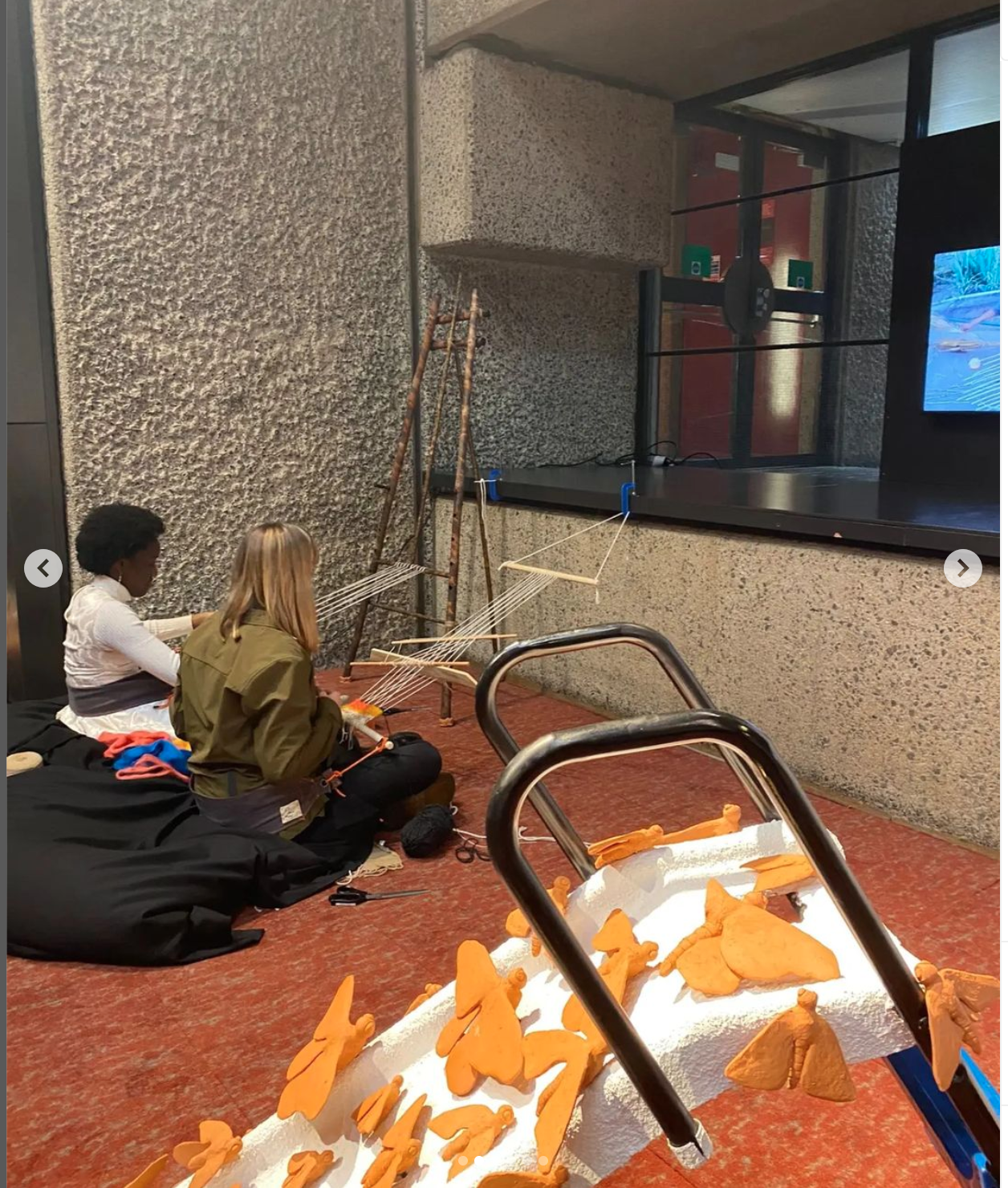 Adanma's works are an examination of self, through ideas around childhood, memory, family and her Nigerian identity. She recently moved to London and she's in the process of navigating her new identity of being a member of the diaspora.
She says of the project "...it has been healing. It has been fulfilling. It has been exciting and it has been re-inspiring."
It has been such a privilege to be part of this work! Adanma kindly asked me to be part of her video where I talk about why I love weaving and why I started backstrap weaving. We also collaborated on the Loom performance on the opening night, with us weaving side by side and helping passers-by learn how to weave from scratch.
What a blast! I can't describe the feeling of excitement when I realised I was backstrap weaving whilst being attached to the building of the historic Barbican. Incredible!! People were mesmerised and watching us from the balconies.
Adanma's work is on display as part of the group exhibition What Do We Become alongside Camilla Dilshat, Tolu Elusadé and Ellen Warner.
Come and drop in!
Barbican Centre
Fri 14 Apr—Sun 7 May 2023, Level G Hub
Backstrap Weaving Workshop: Saturday 24th of June
I'm also excited to say that Make Town are again hosting another Backstrap Weaving Workshop for me!
It was such great fun last time, and Brooke who owns Make Town is a legend. It's such a great way of meeting new people and learning new skills. And, from Adanma's feedback, a great way of healing! What isn't there to love.
Saturday 24th June
11:00am-3:30pm
All levels welcome. £85 for a 3h class. If the weather is good, we might even attach ourselves to some trees.
As always, thanks for reading! I'll be back at the weekend with some updates from the studio.
Have a lovely evening,
Alex