Hello!
I want to start with thanking you so much for subscribing to my newsletter! It means the world to me that you are willing to read a little more about what I'm up to. Hope you're well!
The why
If you open up my inbox, you will find a very long list of newsletters that I've subscribed to. I'm a bit of a newsletter fanatic: it's one of my favourite ways of consuming content at the moment. I feel it's more personal, kind of like a curated letter from someone I find interesting and usually the perfect length for a tube journey or something to read during your lunch break.
I have been thinking of using writing as a way to work out some of my thoughts about my weaving practice for a while. I'm not a particularly amazing writer, but I enjoy reading about other people's work, so I thought I would give it a go. Weaving can be quite a solitary activity, so sharing my ideas, process and experiments with you from a slightly different and more honest perspective than photos and videos we quickly consume on social media, will hopefully feel like I can involve others in what I'm making in the studio.
And of course, as a subscriber, you'll be the first to hear about when I release new work! (which is VERY soon!)
My backstrap weaving practice started when as a fresh graduate I realised that I no longer had access to a beautiful workshop like I had at Central Saint Martins. I lived in a tiny flat with not enough room for a table loom, let alone a floor loom (and with not enough money for either of those!). There was something about weaving that kept pulling me back though. I then researched other ways of making fabric and found backstrap weaving. Since then, even though I wasn't a weaver full time, I kept being mesmerised by how when backstrap weaving, I was part of the loom in such a physical way which I find incredibly meditative. Fast forward to 2021, I decided to try and weave and grow my practice into a full time thing.
And so here we are. If you've been a faithful follower of my Instagram, you may have noticed that I've been working on a collection of wall hangings, a rug and a bag based on crisp packets (more on that in my next newsletter!) It's taken a pretty long time to get it finished, but I am slowly learning to be kind to myself and be okay with things taking longer when you're trying to build a project from scratch.
I want to thank you so much for supporting me. It really means the world to me. I've had such encouraging feedback from a lot of you (and if I don't know you, I'm so excited to have you be part of this!). Without your encouragement I don't think I would even consider doing this.
In many ways, Alexandra Lucas Weave is still an experiment. So let's see where it takes us. Thanks for joining me on the journey!
A lil' celebration
To celebrate finishing weaving my upcoming CRISPS collection, I'm doing a giveaway! I would love it if you could get involved and spread the word.
I'm giving away one Hula Hoops bucket hat and one Doritos cap. The patches are handwoven by me on my backstrap loom.
To enter, head to my Instagram.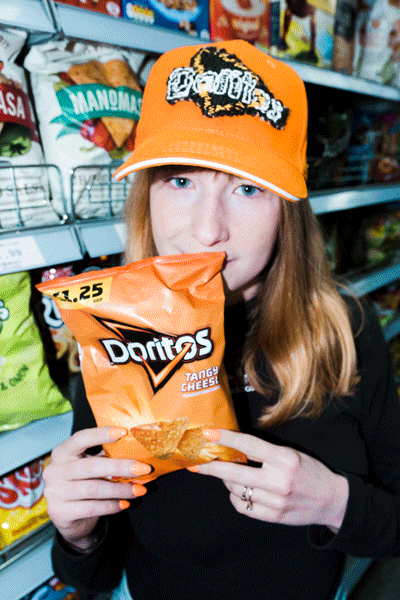 TO ENTER:
✅Follow me on Instagram
✅Like the giveaway post
✅Tag as many friends as you like and say if you're a Doritos fanatic or a Hula Hoops lover
✅Share and tag me so I can see it
You must complete all steps to qualify.
Giveaway ends this Friday the 11th of November!
2 winners will be randomly from my comments and announced on my Instagram!
GOOD LUCK!
P.s. Winners must respond within 48 hrs otherwise a new winner will be announced

Until next time! Thanks for reading and hope you're all having a great start to the week,
Alex x